SPECIAL OFFER: BUY 2 GET 1 FREE!
(SELECT 3 IN CART FOR DISCOUNT TO APPLY)
Vitamin D is very important for overall health. It is also necessary for strong bones. More and more studies are linking deficiencies of Vitamin D among the population to a higher incidence of cancer. This version of Vitamin D3 is an excellent way to meet your Vitamin D needs in a great tasting sublingual form that guarantees rapid delivery to the body. Our version is derived from lanolin (sheep wool) and does not result in the killing of an animal to obtain. It is also Kosher certified, so you can rest assured that no pork products were used in the making of this product like many forms of Vitamin D on the market.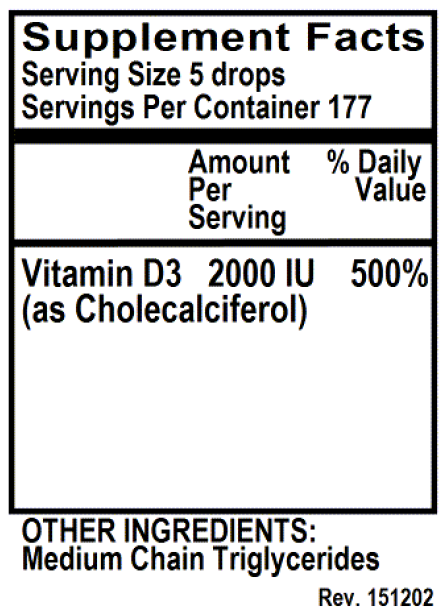 Serving Size: 5 drops
Servings Per Container: 185

*These statements have not been evaluated by the FDA. This product is not intended to diagnose, cure, treat, or prevent any disease.