THE ALL-IN-ONE MINERAL SUPPLEMENT


Minerals and amino acids are the two most important elements our bodies need every day along with water and oxygen. Most of what's sold on the market doesn't for minerals is not very impressive. What really matters with mineral supplementation is bio-availability at the cellular level. A majority of the mineral supplements on the market contain low-grade minerals that tend to have poor absorption capabilities.
We Chose Amino Acid Chelated Minerals For LIVING STONES

While mineral experts all debate which source of minerals work best, the scientifically proven fact is amino acid chelates are a superior way to get bio-available minerals into your cells. The world's leading amino acid chelate manufacturer is Albion Labs based out of Utah. Almost all of the minerals in LIVING STONES are supplied by them.

Here's is some interesting information released by Albion Labs:

Long known as The Mineral People™, Albion is in the business of making very specific molecules backed by sound science and research. We've been making chelated minerals for more than 50 years. Albion is renowned for its science and recognized as a world leader and innovator in mineral amino acid chelate nutrition. Years of extensive research, clinical analysis, third-party critiques and careful laboratory manufacturing enable Albion to produce a fully reacted and highly effective chelate. In fact, we are the only chelate manufacturer that can scientifically prove our molecular structure! By identifying a unique 'fingerprint' for each molecule we develop, our customers know Albion minerals are what we say they are: true mineral amino acid chelates.

Albion is a privately owned company that has been granted more than 100 patents in the field of mineral nutrition. Albion's team of distinguished scientists includes published researchers who've addressed scientific congresses throughout the world. We innovated the Albion TRAACS® range of organic mineral products containing chelated macro and trace minerals designed to provide optimal health, absorption, quality, and return on investment."

LIVING STONES is a beautifying mineral formula that deliver all the critical minerals your cells need in a bio-available form that provides maximum cellular absorption. Our custom blend is further enhanced with MSM, a locomotive mineral that acts as a catalyst to help deliver minerals and nutrients into the cells.

LIVING STONES also contains Aquamin, a unique ocean based sea plant harvested off the coast of Ireland that provides a full spectrum array of trace minerals. Seaweed extract is prized for its health benefits because these unique ocean plants contain a mineral profile in a matrix that almost mirrors the mineral profile of human blood plasma.

Aquamin contains a complete source of balanced nutrition you can't find anywhere else. It contains almost all of the minerals and vitamins your body requires for survival, and also contains an impressive array of amino acids, unique antioxidants and phytonutrient compounds.
Enhanced With Shalijit (A Source of Fulvic & Humic Acid)
Shilajit is a natural substance found mainly in the Himalayas, formed for centuries by the gradual decomposition of certain plants by the action of microorganisms. It is a potent and very safe dietary supplement, restoring the energetic balance and potentially able to prevent several diseases. Recent investigations point to an interesting medical application toward the control of cognitive disorders associated with aging, and cognitive stimulation.
Shilajit also known in the north of India as salajit, shilajatu, mimie, or mummiyo is a blackish-brown powder or an exudate from high mountain rocks, especially in the Himalayans mountains between India and Nepal, although it has been also found in Russia, Tibet, Afghanistan, and now in the north of Chile, named as Andean Shilajit. Shilajit has been known and used for centuries by the Ayurvedic medicine, as a rejuvenator and as antiaging compound.

Source: https://www.ncbi.nlm.nih.gov/pmc/articles/PMC3296184/

Shilajit is used in Ayurveda, the traditional Indian system of medicine. It has been reported to contain at least 85 minerals in ionic form, as well as triterpenes, humic acid and fulvic acid.

The primary active ingredients in Shilajit are fulvic acids, dibenzo alpha pyrones, humins, humic acids, trace minerals, vitamins A, B, C and P (citrines), phospholipids and polyphenol complexes, terpenoids. Also present are microelements (cobalt, nickel, copper, zinc, manganese, chrome, iron, magnesium and others. Shilajit comes from the Sanskrit compound word shilajatu meaning "rock-invincible", which is the regular Ayurveda term.

Source: https://en.wikipedia.org/wiki/Shilajit

LIVING STONES Contains The World's Best Source of Sulfur (Methylsulfonylmethane)

No mineral supplement would be complete without the inclusion of MSM Sulfur. Most soil was rich in sulfur until the 1950's when chemical fertilizers were introduced. Simply put, sulfur helps bring oxygen and nutrition into the cells. The "Sulfur Cycle" was broken when farmers switched from using manure as a fertilizer to chemical based fertilizers and also began spraying a wide range of dangerous pesticides and herbicides. Pesticides and toxin exposure are major culprits in mineral deficiencies. It is a known facts that a huge percentage of the population today is sulfur deficient.
Vice President of 7 Lights Health Rachel Ciola has been putting these products to the test. She has lost over 30 pounds in 2018. She exercises 6-7 days a week. Seven years ago Rachel was in crisis with her hair. She had several bad hair dressers that damaged her hair and spent years trying to get back a vibrant, healthy head of hair. Not only does she notice great results using Living Stones, it has done wonders rebuilding healthy hair.
Check out her Facebook post on June 6, 2018.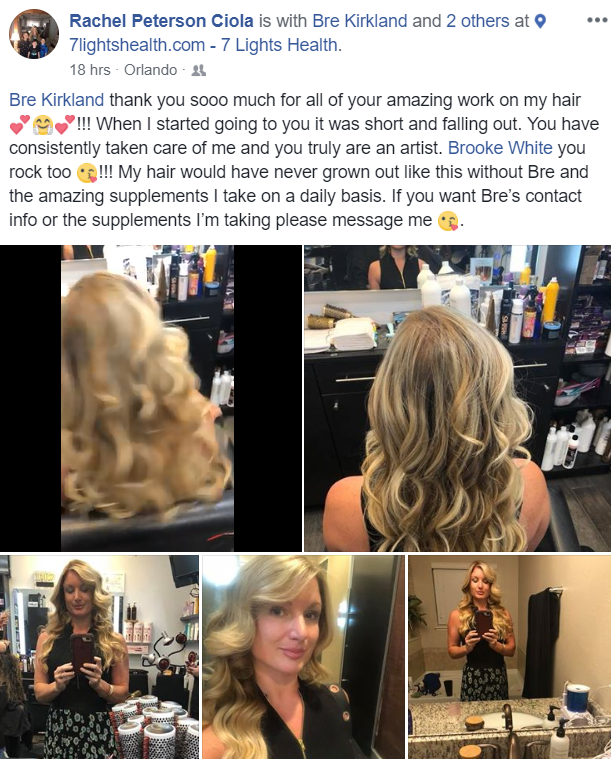 *These statements have not been evaluated by the FDA. This product is not intended to diagnose, cure, treat, or prevent any disease.